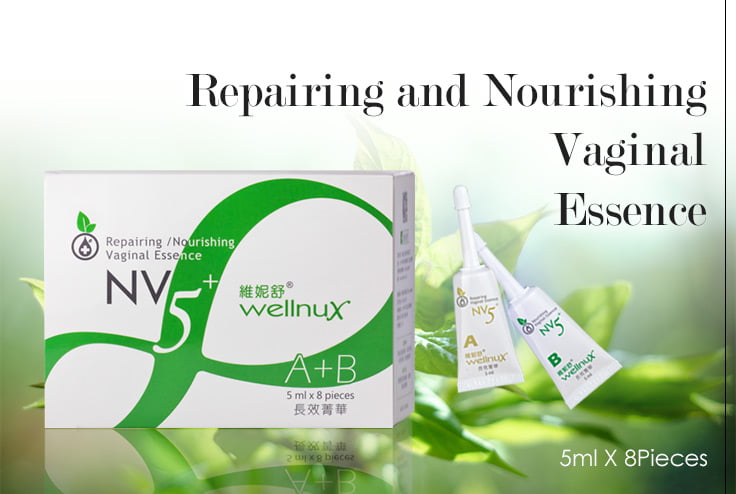 Vaginal Essence (長效菁華)—The Solution to Recurrent Vaginal Infection
5ml *8 pieces/Box :Gel-like essence contained in 8 individually wrapped tubes
Vaginal Essence A contains the following ingredients
NV5+: A high concentration of NV5+ which has antimicrobial effect.
Aloe Extract: Plant extract that hydrates and soothes skin. It also has antioxidant qualities.
Gingko Biloba: Plant extract with strong antioxidant properties. Also has anti-inflammatory function. Helps increase skin elasticity.
Vaginal Essence B contains the following ingredients:
NV5+: An antimicrobial formula.
Honey: A natural moisturizing agent, it forms a barrier on skin that can help soothe and protect.
Niacinamide: A very effective skin-restoring ingredient that offers multiple benefits for aging skin, such as the ability to visibly improve the appearance of enlarged pores, uneven skin tone, fine lines, dullness, and a weakened skin surface.
D-Panthenol: A skin conditioning agent that provides deep penetrating moisture to the skin, stimulating epithelisation to provide wound healing and anti-inflammatory effects.
Direction for use
There are two types of vaginal essence. Use essences A and B for 8 days when there are signs of more serious vaginal infection. Use essence A and B for 4 days when there are minor signs of vaginal infection. Use B to prevent infection and odor and to help maintain a healthy acidic vaginal environment. Women who are undergoing menopause can use B to reduce dryness and irritation.
Disposable tube to prevent bacterial growth and infection. Every tube is disinfected by Gamma ray. The tube design also provides convenient way to put the essence into the vagina.